In August of 2006, my Esteemed Parents will celebrate their 50th wedding anniversary. Many in Furry Fandom have seen the intrepid duo of "Grandma and Grandpa Kage" at Anthrocon, where they have worked tirelessly helping to run the Con Store and Artists' Alley since 1999. Many also know just how much we owe to these two, who both during and away from the convention have put in many hours of work and offered a good deal of invaluable advice.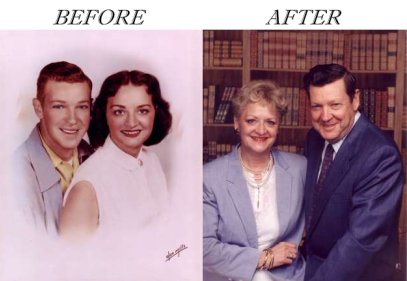 Last Summer as we were celebrating their 49th anniversary, I asked my parents, "Next year is the big 5-0. Where do you think you'd like to go for that?" I was expecting the usual destinations: Florida, Niagara Falls, Alaska...
Their immediate answer? "EUROFURENCE!"
I should not have been so surprised. They've been a big part of Furry Fandom for years and have been going to move and more of our conventions, so why not?
Now, my siblings and I are all set to put Mom and Dad on a plane and send them over to Germany to hang out with Furries for their Golden Anniversary. With the help of the many friends that these two have made from among the fandom over the years, though, we could send them over in style! The goal is to get them first-class accomodations, and if possible, to give them a chance to spend a couple of days after the convention in Paris, the City of Lights!
This is an invitation to anyone who recognizes the many contributions that these two have made to Furry Fandom to chip in to help make their 50th Anniversary a truly remarkable and memorable experience. All you need to do is click on the button below to donate via VISA, Mastercard, or Paypal.
Of course, if you don't want to click on any silly buttons but would still like to chip in, drop me an email at samuel_conway(at)yahoo.com. This is our chance to give a bit back to two people who have given us all so much, and make their golden anniversary into the stuff stories are made of!